What made you say yes to your dress?
I went to all the bridal stores in Brisbane looking for a dress that hugged my figure, and had a subtle mix of glitz, glam and class. Of all the 1000 dresses that I tried on, it wasn't until I stepped into this Oksana Mukha dress on the Gold Coast, that I felt beautiful.
Describe your wedding day look
Absolutely Hollywood glam. Hollywood waves, bold eyes, and pop of lip colour all paired with jewelry that complimented my engagement ring and my personality.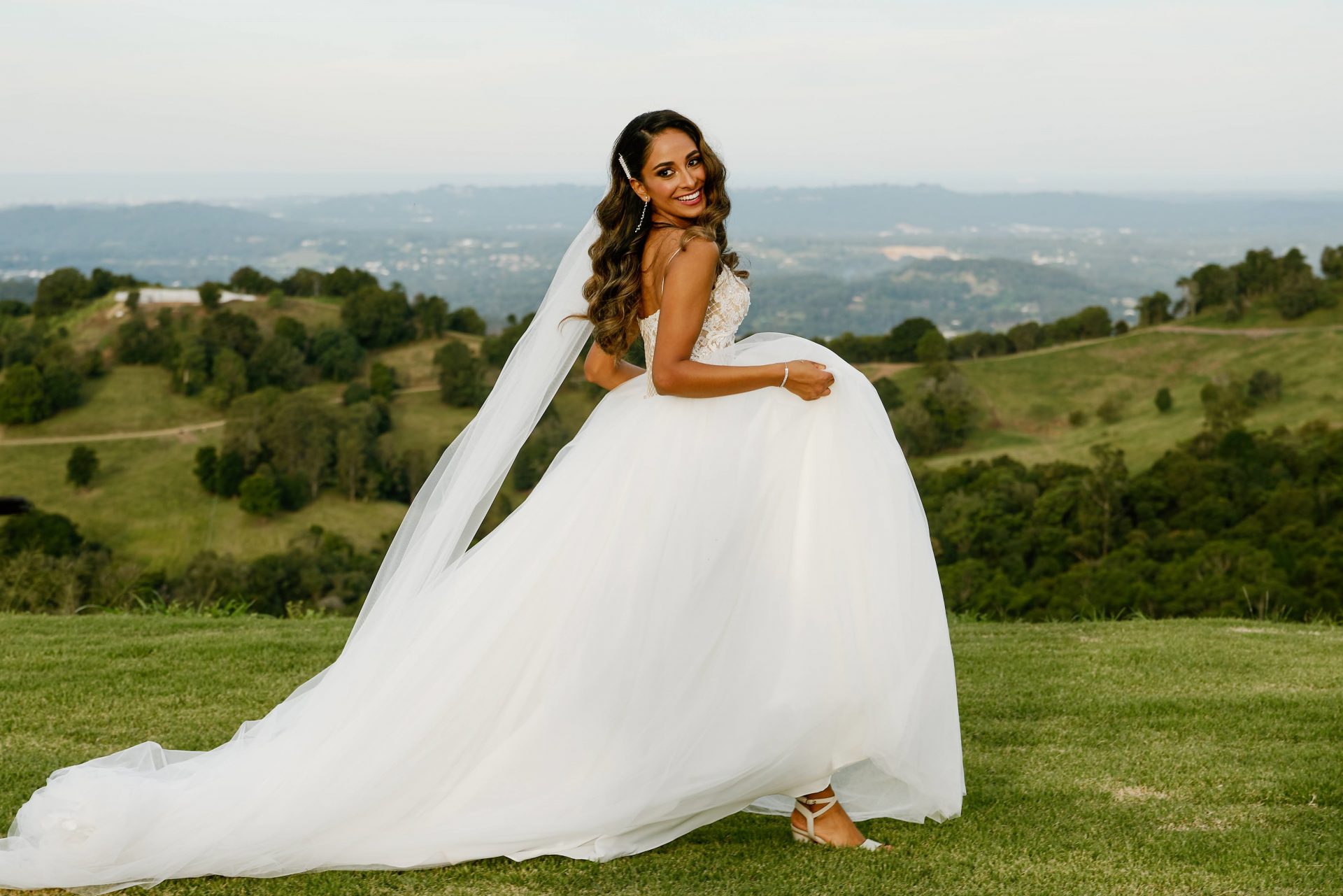 What was the most stressful part to Wedding planning?
We had a few hiccups along the way, including not having a majority of my family attend our wedding because of COVID-19. Growing up, I always imagined my wedding as a big celebration and reunion for all 13 of my cousins spread around the globe. While they weren't there in person, they were through zoom.
On the day, there's not one thing that went through our minds as a must do! So the planning the run sheet down to who we wanted in our photographs i.e. Mum's just for Mother's day or cousins, what poses we wanted were so important. You expect so much time in an 8 hour day, but it flies by so fast.
 What was the most important aspect of your wedding day?
We wanted to have the right people with us. It was so important to us to not deal with any complications on the day, and completely let go and have fun. The wedding day and the commitment we were making wasn't terrifying, we knew this is where we wanted to be, so our wedding was more about having fun, enjoying the food and the great company.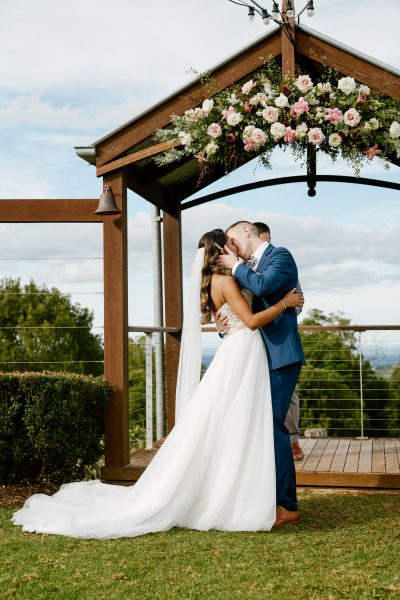 The funniest moment on the day was…
We purchased smoke bombs for a sunset photography. Lighting both up, our photographer grabbed one and ran around us for an artist affect for our videography. Her (photographer) hands were orange, but it made for a stunning clip.
Any wedding preparation advice that you can share?
Make a list of family and friends you want to have your photos taken with on the day. Give that list to someone who knows people from both parties and will be able to coordinate all the photos. For me, it was my sister. This part was last on my list, but I'm so glad we had it because the whole day went by in the blink of an eye.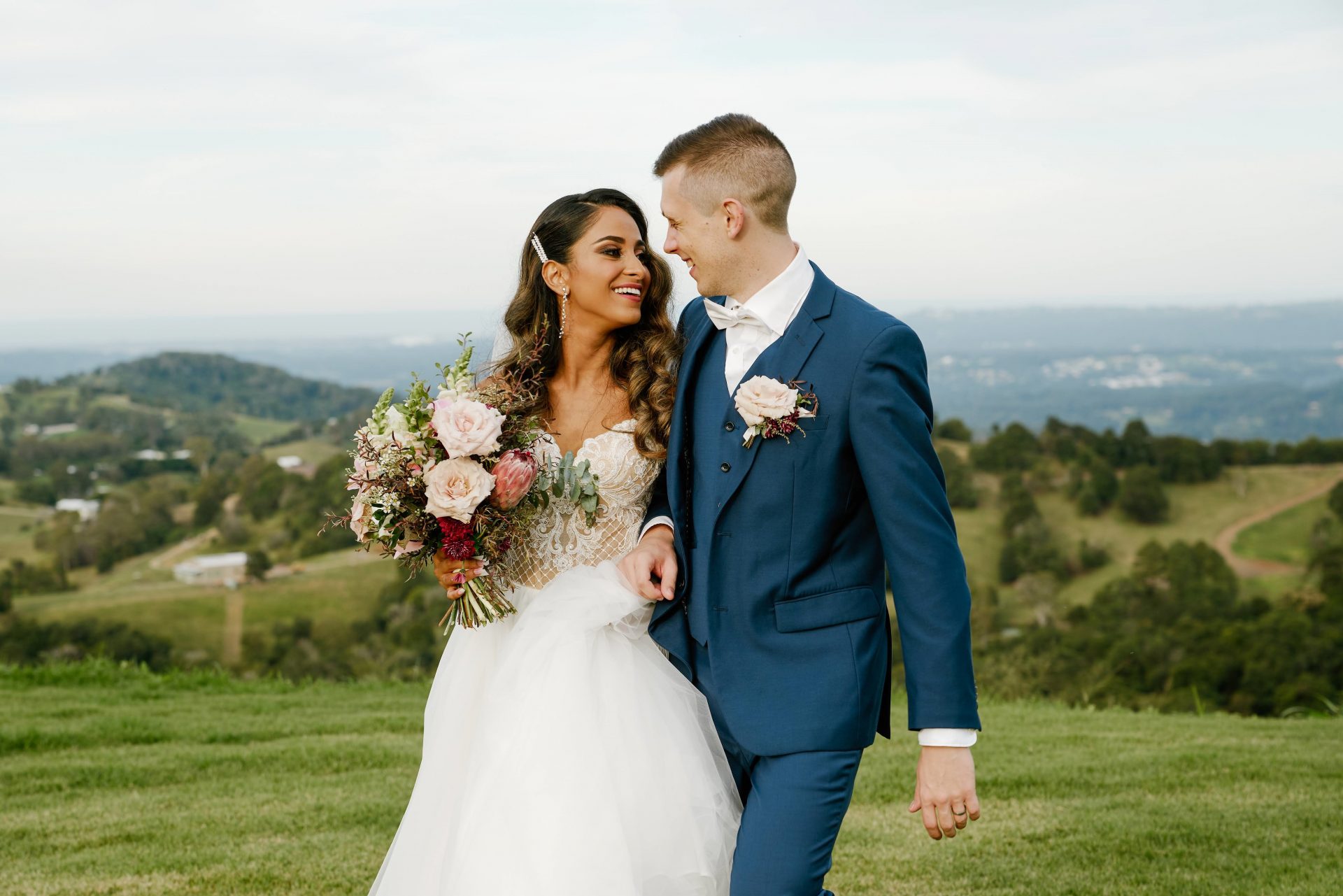 Any advice on choosing the right dress for your wedding day?
I cannot tell you how many dresses I tried on. I was going for one particular look and scoured all of Brisbane for it. When I walked into Pearl Bridal, I was opened up to trying a dress I hadn't expected. Elma by Oksana had all the elements I was looking for – glitz, glam and a tiny waist! My advice is to just be open but fall in love with the experience of looking for the dress that will be encapsulated in photos and memories.